[ad_1]

With his tenure in Minnesota potentially set to end this offseason, Vikings running back Adrian Peterson already has a few potential employers on his radar. The seven-time Pro Bowler revealed Thursday on ESPN that he's interested in the Texans, Buccaneers and Giants.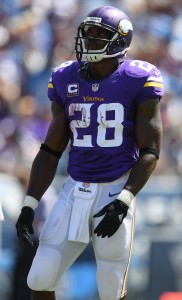 Of course, in order for Peterson to join another team, the Vikings are going to have to part with him first. The soon-to-be 32-year-old stated that he'd like to remain a Viking. That would require a construct restructuring, though, as Peterson's slated for an $11.75MM salary and $18MM cap number in 2017. Those are each unpalatable figures given his age and injury-truncated 2016, which saw him tear his meniscus in Week 2 and rack up a meager 72 yards on 37 carries.
With a $6MM roster bonus due March 11, an answer on Peterson's future is coming soon, writes Mike Florio of Pro Football Talk. Considering Peterson isn't a fan of going through the offseason program and training camp, he could force his release and sign with a club closer to the start of the regular season, Florio observes.
Of the franchises Peterson is targeting, Houston stands out as the one that clearly isn't a fit. While the Texans play in Peterson's home state, they already have a starting running back in Lamar Miller, whom they gave $14MM in guarantees on a four-year, $26MM deal in free agency last winter.
The Bucs also doled out big money to a back a year ago in re-signing Doug Martin, but his future with the team is in question as a result of a late-2016 suspension for performance-enhancing drugs. In addition to costing him one game this season and three in 2017, the ban voided Martin's $7MM in guarantees for next season. Theoretically, then, Tampa Bay could jettison him for Peterson if it wants.
The Giants, meanwhile, have a slew of rushers, though there might not be a bell cow among them. Paul Perkins, who had a decent rookie year, stands out as the most promising back New York has. Veterans Rashad Jennings and Shane Vereen could end up on the chopping block this offseason. Even if they don't, neither is a No. 1-caliber rusher.
Peterson, on the other hand, is one of the premier backs in NFL history. Although his 2016 was nightmarish, he isn't far removed from winning the league's rushing title in 2015.
Photo courtesy of USA Today Sports Images.
[ad_2]

Source link